Key Metric Software is proud to announce Permissions Reporter v3 - the latest major version of our award-winning NTFS permissions reporting software for Microsoft Windows. There's a lot to talk about, so let's get to it.
Permissions Reporting

Performance

We've re-engineered the Permissions Reporter file system analysis engine from the ground up. This effort has resulted in remarkable performance improvements, with many workloads now completing three to five times faster than before.

Usability &

Accessibility

Permissions Reporter 3 contains a wealth of improvements designed to improve usability and productivity.
Users can now easily the overall (relative) font size of the application.
New tooltip designs for permissions and file report detail views and improvements to existing tooltips.
Folder paths can now be dragged from Windows Explorer and dropped into the project folders list.
Project settings window layout changed to make space for more descriptive option categories.
Pagination support has been added to detail report table views.
Keyboard shortcut support have been greatly expanded.
New user-selectable color themes have been added.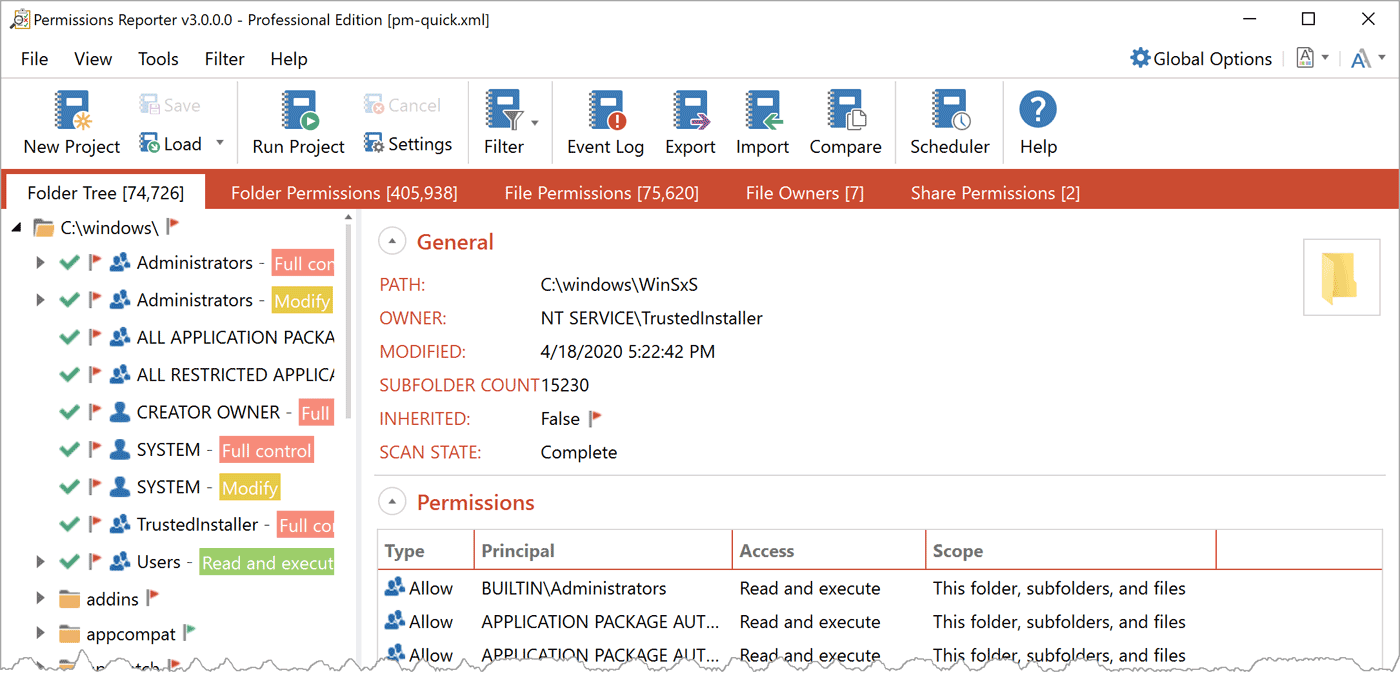 Permissions Report

Filtering

Permissions Reporter allows you to create highly customized NTFS file system permissions reports that contain exactly the data you need. Filters are the key to answering key questions about your organization's file system security posture, and can be used to find a wide range of potential vulnerabilities. A primary goal for v3 was to bring these features to the forefront.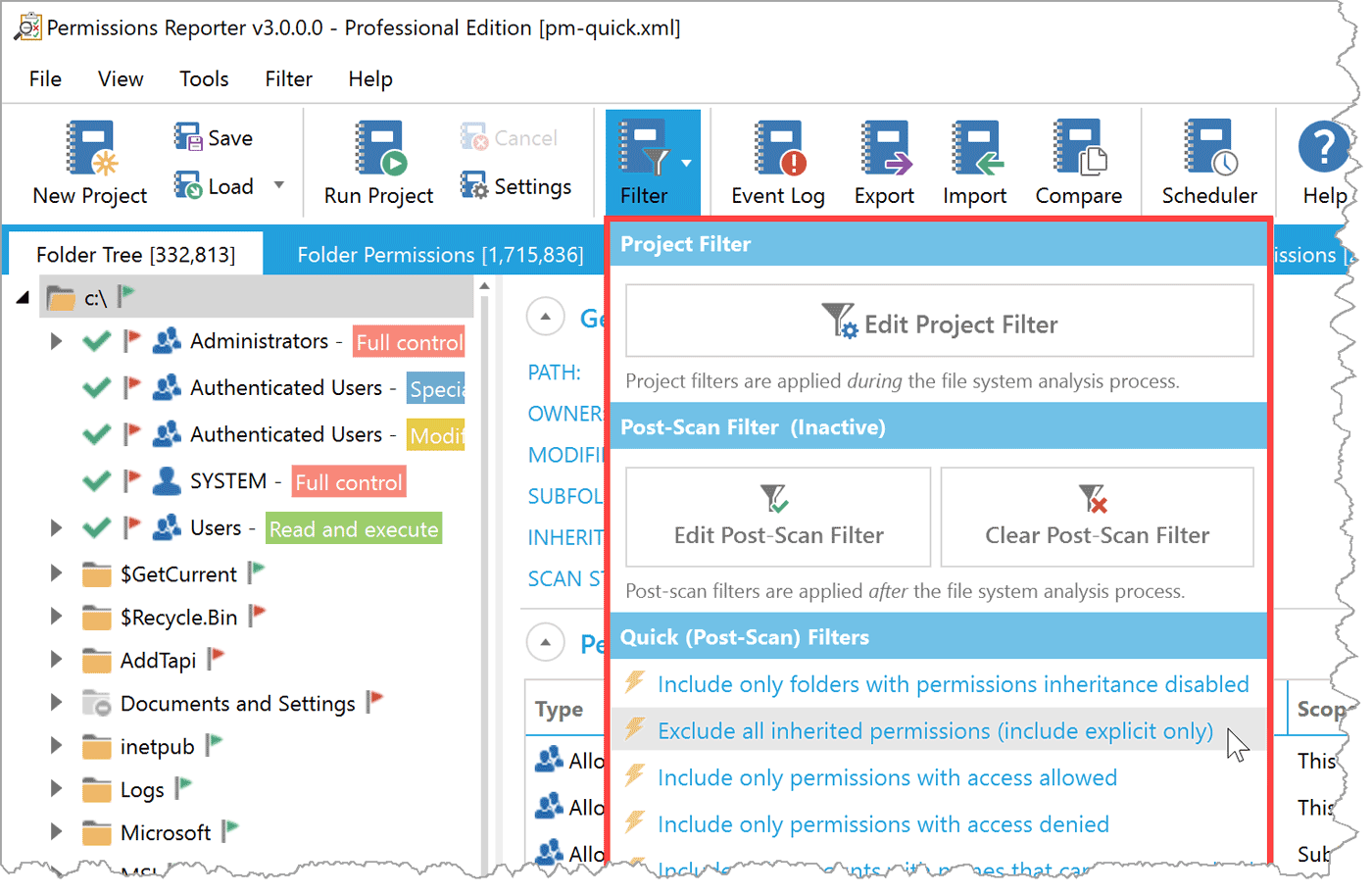 Quick post-scan filters can now be edited and applied directly from the main window toolbar.
New quick filters have been added to cover more common NTFS file system reporting scenarios.
Improved performance of report filter application.
Exporting
NTFS File System Permissions Reports
Permissions Reporter allows you to create consise, revealing, and actionable NTFS file system permissions reports. Enabling you to share this information is a key part of the product's core value proposition. Toward that end, we've expanded on data export capabilities as follows.
File system permissions reports can now be exported to PDF file format.
HTML exports can now be customized through the use of header and footer template files.
Report export features have been enhanced with additional column customization options.
Improved default sorting of export file formats intended for human consumption (HTML, PDF, Excel).
Report exports can now optionally include file report differential details.
Folder node scan state is now stored as part of XML export and reflected upon re-import.
HTML flat table export option now applies color coding to basic permissions column.
File System Permissions

Comparisons

Permissions Reporter allows you to compare previously exported file system permissions data so you can assess change over time. Customers have been requesting a means of automating this tool, and v3 delivers command line interface enhancements for this purpose - allowing you to create, export, and email comparison reports from your scripts.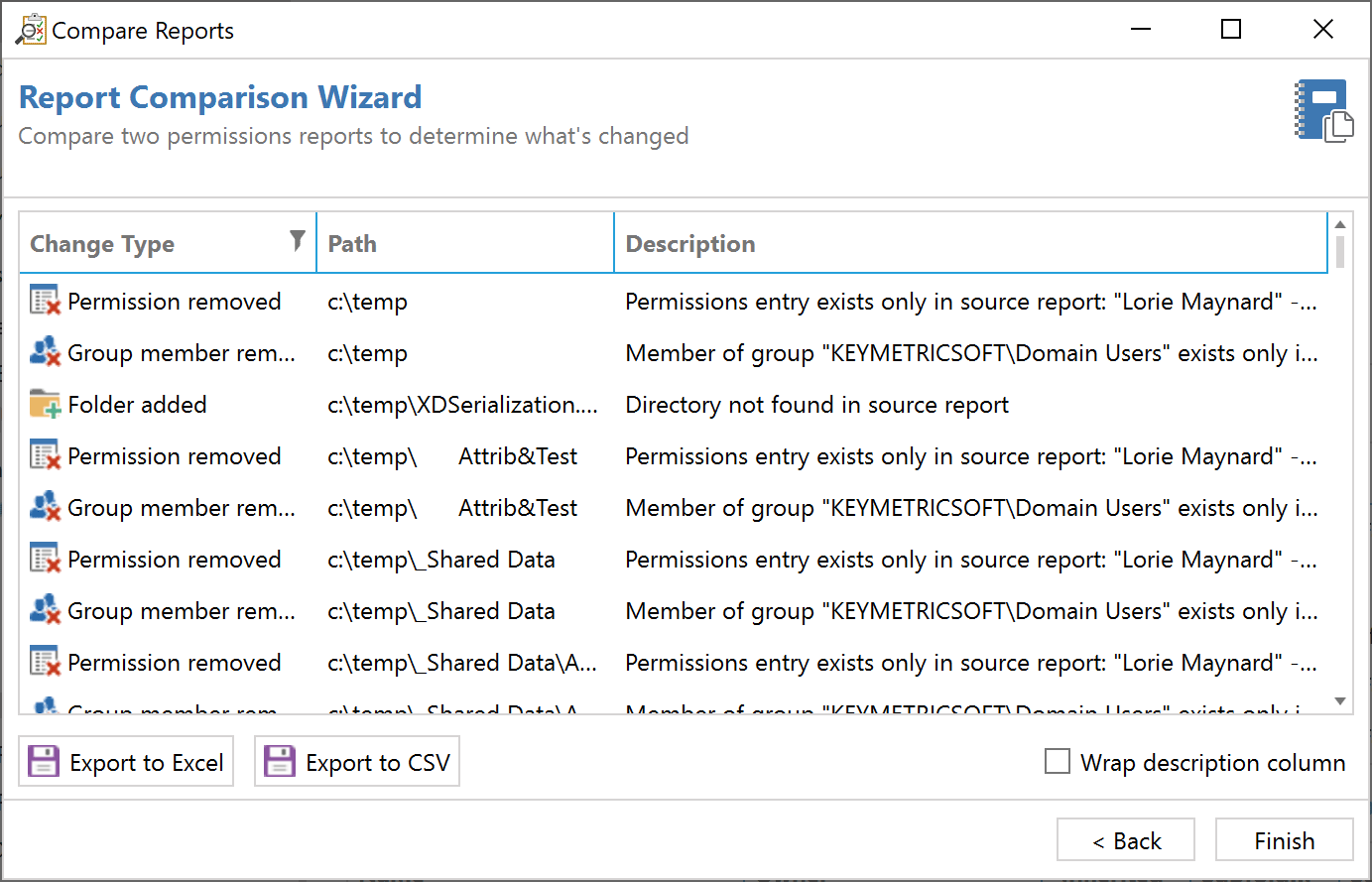 We've also enhanced the usability of the permissions report comparison tool. You can now navigate back after the comparison report is generated so that you can easily reset various report parameters. The comparison report itself can now also be exported to CSV (in addition to the existing Excel export format), and we've improved the on-screen readability of the comparison results.
File Permissions

Detail Reporting

Permissions Reporter includes powerful file reporting features that identify specific file instances not conforming to your organizational security goals. The new v3 release greatly expands on these features, providing you with more control over which files are included and new details as to why.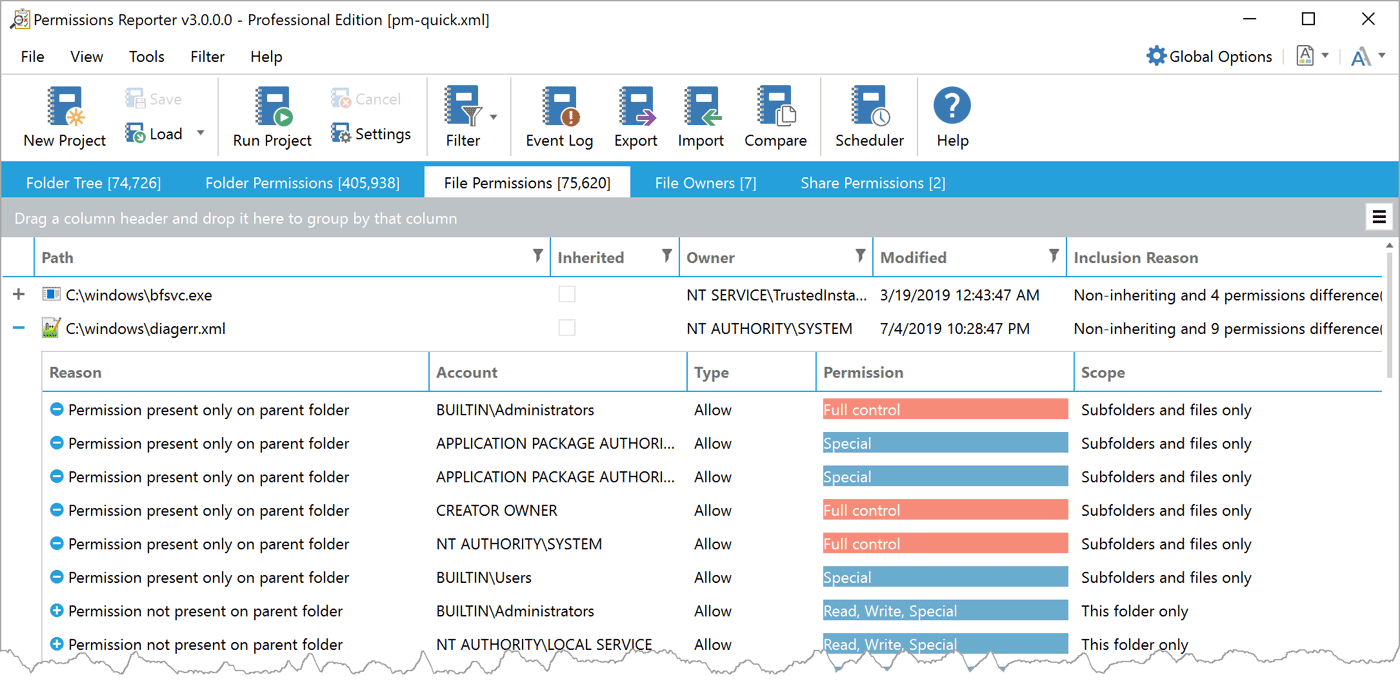 New configuration options for precise control over file permissions report contents.
File report entries now report on the specific permissions difference(s) that triggered their inclusion (when applicable).
All export formats have been updated to include new file permissions report differential permissions data.
Additional

Improvements
Improved resiliency and error handling for group membership extraction logic.
Remote path authentication no longer fails when an existing network connection is present.
Event log viewer now provides full-text search capability.
Event log viewer now offers the ability to copy error details to the Windows clipboard.
Owner tree list root item count now reflects total of all contained file types.
File permissions report export now matches default user interface column ordering.
Window placement data is no longer stored in a separate settings file (now uses registry).
Project folder exclusions now allows for comparison operator (e.g. &equal to&, &begins with&, etc.) selection.
Double-clicking owners report tree nodes now expands them (when applicable).
Now using FIPS compliant AES encryption for storage of sensitive data.
Process privilege adjustment failures are now added to the project execution log (as a warning).
Folders excluded by project exclusion settings now appear in the folder tree with a disabled icon.
Project path entries can now be double-clicked for editing purposes.
Bug fixes and other minor improvements...